Disparaging comments by Ag Secretary Perdue about the future of independent family farms should spur Congressional action
Press Release: October 23, 2019
Contact: Adam Mason, adam@iowacci.org (515) 282-0484
Family farm groups from Minnesota, Iowa, Missouri and South Dakota traveled to Washington, D.C. last week to meet with members of Congress on the causes of the current Farm Crisis, and the failure of the proposed new North American Free Trade Agreement (NAFTA) to address those challenges.
The meetings came two weeks after Agriculture Secretary Sonny Perdue's controversial comments about the viability of small family farms and the need for farm operations to get big in order to survive.
At the World Dairy Expo in Madison, Wisconsin, Perdue told a group of small and mid-sized, mostly dairy farmers: "In America, the big get bigger and the small go out. I don't think in America we, for any small business, have a guaranteed income or guaranteed profitability." This, while the Trump Administration is subsidizing the largest meatpacker in the world, Brazilian owned JBS, with millions of dollars from U.S. taxpayers.
The big getting bigger and pushing out the small has been strategically sold by corporate agriculture interests to farmers and the general public as the inevitable destiny of U.S. agriculture since the Nixon era. The groups questioned whether Perdue can effectively serve all farmers, including small and mid-sized farmers and ranchers, as Agriculture Secretary.
The groups make up the Campaign for Family Farms and the Environment, which called on Congress to reject the Trump Administration's proposed U.S.-Mexico-Canada Free Trade Agreement (USMCA, or NAFTA 2.0). For agriculture, the USMCA is a status quo deal that does nothing to address excess corporate control of the agriculture economy where most farmers are losing money and have to rely on off-farm jobs to survive. Instead, the USMCA locks in a system that has greatly benefited multinational agribusiness firms. The Trump Administration chose to ignore a major ask from farm groups – the inclusion of mandatory Country of Origin Labeling (COOL) for meat products that would benefit both U.S. ranchers and consumers.
"NAFTA has allowed large corporations like JBS and Smithfield to pad their bottom line at the expense and loss of hundreds of thousands of family farmers," said Frank Jones, a farmer from SE Iowa and member of Iowa Citizens for Community Improvement, "Elected officials need to create fair trade policies if they want to help farmers in Iowa and across the Midwest. Not pass another `free trade' scheme like USMCA."
"I urge our elected representatives to pass policies that restore and protect an independent family farm system of agriculture, including policies that address corporate control, overproduction and low prices," said Darvin Bentlage, 4th generation cattle and grain producer from Barton County, MO. "Concentration and corporate 'free trade' have allowed multinational corporations in the meatpacking industry to extract wealth from our rural communities and put independent family farmers out of business. Our elected reps need to do better and address what is going on out here and not follow lock-step the policies written by corporations and lobbyists at the expense of our farms, families and communities."
Kathy Tyler, a Dakota Rural Action member affected by factory farm expansion said, "Somewhere, sometime, somehow, Congress and our local legislators and officials need to start caring about and doing something about the exodus of farm families. They are the backbone of our state and are what keep our small communities alive. If we don't support them, we will all vanish."
Independent family farmer leaders from the four Midwestern states outlined their concerns with the new NAFTA in an oped that ran in the Des Moines Register in August.
The Campaign for Family Farms and the Environment is composed of the Missouri Rural Crisis Center, Iowa Citizens for Community Improvement, Dakota Rural Action, Land Stewardship Project (MN), Food & Water Watch, and the Institute for Agriculture and Trade Policy.
##

And why your county supervisors should pass a resolution calling for one
Iowa has too many factory farms. There are 27 million hogs in Iowa according to the DNR. That many hogs produce over 22 billion gallons of manure. That manure is then spread untreated onto fields across the state. Releasing harmful pollutants in our air and water.
There are over 750 impaired water bodies in the state; many are polluted due to impacts from Big Ag. More than 200 community water systems struggle with high nitrate levels due to factory farms upstream. We need a moratorium now. The future of Iowa's water depends on it.
The Iowa Department on Natural Resources (DNR) can't keep up with the factory farms. In the last five years they have discovered 5,000 "unknown" facilities, meanwhile 400-600 factory farms are added each year. At Iowa CCI we say, if you're in a hole, stop digging!
Factory farms are an economic drain on communities. Large corporate owned factory farms extract the profits and leave us with the pollution, lower property values, and ruin our quality of life. What we really need are independent family farms who buy locally, grow locally, and sell locally.
We believe in an agricultural system that works for farmers, workers, eaters and the environment. If we want good-paying jobs, clean water and air, and vibrant communities we need independent family farms. Our food and farm system belongs in the hands on many independent family farmers not under the control of a handful of giant corporation. The first step towards this vision of agriculture is a moratorium, no more new or expanded factory farms.
Talk to your county supervisors about passing a moratorium resolution. This non-binding resolution will send a powerful message to elected officials at the state level that everyday folks want a moratorium!
Governor Reynolds spending less on water quality improvement measures, while nutrient pollution from industrial agriculture isn't getting any better
An Iowa Policy Project (IPP) report released yesterday echoes the state's own March 2019 progress report showing that Iowa's voluntary nutrient reduction strategy is insufficient to protect water in Iowa or downstream. The report calls out the state legislature for failing to create any meaningful steps to clean up Iowa's water crisis.
Members of Iowa Citizens for Community Improvement (Iowa CCI), who recently filed a lawsuit against the state in the fight for clean water, say this new report adds to the mounting evidence that the voluntary nutrient reduction strategy is not helping nutrient pollution get any better.
The report shows that total state spending on water quality has rapidly declined over the last three years. In 2018 Governor Reynolds signed a bill she touted as increasing funding for water quality. In reality though the state is still spending less than before the voluntary nutrient reduction strategy was even created.
"Governor Reynolds and Republican leadership claim that more money is going to fund nutrient pollution clean-up, but the reality is they are spending less on water quality than before the nutrient reduction strategy was created," said Cherie Mortice an Iowa CCI member from Polk County. "It's no secret that the levers of power in the state have been out of whack for a long time. They have continually put the profits of corporate ag over our water, our air, and our quality of life."
As funding for water quality improvement has decreased, factory farms – a known non-point source polluter – continue to expand at an alarming rate. One in four counties in Iowa have passed resolutions calling for change to this corporate controlled, polluting system of agriculture.
Iowa has over 10,000 factory farms and each year another 200-400 factory farms are built – a number that is anticipated to increase as the Prestage slaughterhouse comes online.
"The increase in factory farms each year is directly related to the diminished and dangerous quality of our water," said Barb Kalbach, an Iowa CCI member and 4th generation farmer from Adair County,"They produce over 22 billion gallons of toxic liquid manure each year, that is spread untreated across Iowa and ultimately makes it way to our waterways."
"If the nutrient reduction strategy remains voluntary and factory farms keep going up Iowa's water crisis isn't going to get any better," said Adam Mason, State Policy Director at Iowa Citizens for Community Improvement, "We need mandatory measures and a moratorium on new or expanding factory farms if we want to see any improvement in the over 750 impaired waterways we have in the state."
In March, Iowa CCI along with Food & Water Watch and Public Justice, filed a lawsuit against the state of Iowa for failure to protect our right to clean water. The game changing lawsuit is calling for a mandatory nutrient reduction strategy and a moratorium on new or expanding factory farms.
"Iowan's are tired of being told that our interests – our water, our health, our enjoyment of public waters, our drinking water, our pocketbook – must be compromised or balanced with those of corporate ag and other industries willing to destroy our lives for a profit," said Mason, "Our lawsuit is holding our state to a higher standard – for us, for our kids, and for our grandkids."
For Immediate Release: March 27, 2019
Contact: Darcey Rakestraw, drakestraw@fwwatch.org, 202-683-2467
Adam Mason, adam@iowacci.org, 515-282-0484
Aidan O'Shea, aoshea@publicjustice.net, 202-861-5240
Suit alleges state of Iowa is failing to protect its waterways from factory farms
Follow along on our Facebook livestream as we announce the lawsuit
Des Moines, IA – Today, Iowa Citizens for Community Improvement and Food & Water Watch filed a lawsuit against the State of Iowa claiming that the state has violated its obligation to protect the Raccoon River for the use and benefit of all Iowans.
This obligation is called the Public Trust Doctrine, which requires the state to protect the public's use and not abdicate control to private interests. With well documented water pollution and only voluntary agricultural pollution controls, the suit alleges that the state is failing to uphold its duty. The groups are represented by Public Justice, Food & Water Watch, Roxanne Conlin & Associates, and Channing Dutton, of Lawyer, Lawyer, Dutton & Drake LLP.
Members of Iowa Citizens for Community Improvement and Food & Water Watch gathered at the Capitol building in Des Moines today to demand accountability for the failure of the state to uphold its duty to protect the Raccoon River, particularly from factory farm pollution.
"Iowans are tired of being told that our interests – our water, our health, our enjoyment of public waters, our drinking water, our pocketbooks – must be compromised or balanced with those of corporate ag and other industries willing to destroy our lives for profit," said Adam Mason, State Policy Director at Iowa Citizens for Community Improvement, "Our lawsuit is holding the state to a higher standard – for us, for our kids, and our grandkids."
Emma Schmit of Food & Water Watch said, "There is a well-known, statewide water crisis in Iowa, and the Raccoon River in Polk County has been particularly harmed by pollution from factory farms. The Raccoon River runs through one of the most intensely farmed areas of the United States, where runoff from animal manure and fertilizer poses a threat to tap water and recreational use of the river. Once again, the legislature has failed to take any action on water quality, so the citizens of Iowa have stood up to say enough is enough."
The Raccoon River is the source of drinking water for some 500,000 Iowans. Des Moines Water Works, the largest water utility in Iowa, has one of the most expensive nitrate removal systems in the world. The utility's struggle to provide safe drinking water to Des Moines residents was documented in its 2015 lawsuit against upstream counties alleging that their failure to regulate tile drains led to excessive amounts of dangerous nitrates in the utility's Raccoon River source water.
A bill to establish a moratorium on new and expanded factory farms was introduced in the Iowa Senate and House of Representatives during the 2019 session. Despite growing concern from citizens and an increasing number of legislative sponsors, leadership in the Iowa General Assembly refused to allow the bill to even be debated in subcommittee, and the bill died in the first funnel on March 8. No bills to address the factory farm or water quality crises remain alive in this legislative session.
Roxanne Conlin of Roxanne Conlin & Associates said, "Iowans have waited patiently for our elected officials to fix our state's polluted public waters. As it is clear those elected do not have the willpower to take any substantive action, every day Iowans are now turning to the courts to make Iowa's waters clean and to protect their ability to enjoy the many outdoor activities that so many Iowans hold dear."
"The State of Iowa has an obligation to protect the public's use of the Raccoon River," said Brent Newell, Food Project Attorney at Public Justice. "Farmers know what practices work for their farms, communities, and the environment. But we are clearly seeing that voluntary compliance does not work in a system controlled by corporate agriculture. Iowans need a system that empowers Iowa's farmers to be the solution and restores rural communities economically."
This lawsuit is a response to Iowa's failed leadership, which has allowed the agribusiness industry to degrade Iowa's waterways, leaving citizens with the burden of pollution and the cost of cleanup efforts. The suit seeks actionable, mandatory solutions that will restore the Raccoon River and make it safe for people to recreate in and for those who rely on it for drinking water.
Iowa Citizens for Community Improvement works to empower and unite grassroots people of all ethnic backgrounds to take control of their communities; involve them in identifying problems and needs and in taking action to address them; and be a vehicle for social, economic, and environmental justice.
Food & Water Watch champions healthy food and clean water for all. We stand up to corporations that put profits before people, and advocate for a democracy that improves people's lives and protects our environment.
Public Justice pursues high impact lawsuits to combat social and economic injustice, protect the Earth's sustainability, and challenge predatory corporate conduct and government abuses.
###
You can get involved by helping to support this case. Chip in $5, $10, $15 today!
As you know, legal action isn't cheap. And, the Farm Bureau is going to come out swinging.
That's why we're asking you to dig deep. DONATE TODAY. Whatever you can give will fund the legal work, and help us the counter corporate ag's misinformation at every turn.
We'll keep you updated as this case develops.
They dump it, you drink it, we won't stop till they clean it up!
Local, State and National Groups Unite in Support of Legislation Critical to Protecting Iowans from Factory Farm Pollution

DES MOINES, IA—Today, a coalition of 70 environmental, community and agricultural organizations called on Iowa's General Assembly to advance a legislative proposal for a moratorium on new and expanding factory farms in the state. View the full sign onletter here. 
Currently, Iowa is home to over 10,000 factory farms, which produce more than 22 billion gallons of manure per year. The pollution generated by industrial animal operations has resulted in widespread water contamination and diminished quality of life throughout the state.
"Factory farms are expanding in Iowa at an alarming rate," said Emma Schmit, Food & Water Watch's Iowa Organizer. "We can no longer sit back and allow our water, our communities, and our independent family farms to be destroyed by factory farms. Iowa's General Assembly must act now to address these concerns by enacting a moratorium on new and expanded factory farms."
A harsh, unhealthy and environmentally risky form of food production, factory farming employs an unsustainable method of raising food animals that packs together large numbers of animals into confined spaces. Among the destructive results is the production of massive amounts of animal waste, creating risks to the local environment, natural resource contamination, and the rise in antibiotic-resistant bacteria and public health hazards, including respiratory infections, asthma, skin rashes, nausea, and headaches.
"It's clear to Iowans that the factory farm industry is out of control. Just last year, they added over 400 new facilities, with local communities having no say over the matter," said Barb Kalbach of Iowa Citizens for Community Improvement. "With nearly 25% of counties calling for stricter regulations on factory farms, and thousands of Iowans suffering daily from poor water quality, toxic air emissions, and a monopolized food industry the legislature must take action. The clock is ticking for the future of our state."
A moratorium will allow legislators and regulators a chance to assess the public health, economic and societal impacts of factory farming. An unchecked rapid expansion of the industry is doing untold damage to our environment, our food, and our health. We must take meaningful action to fully understand the consequences of an industrial agriculture system.
On February 21st, Iowa Citizens for Community Improvement, Food & Water Watch, and Iowa Alliance for Responsible Agriculture members from across Iowa will be gathering at the State Capitol to pressure legislators to take bold action on factory farms.
###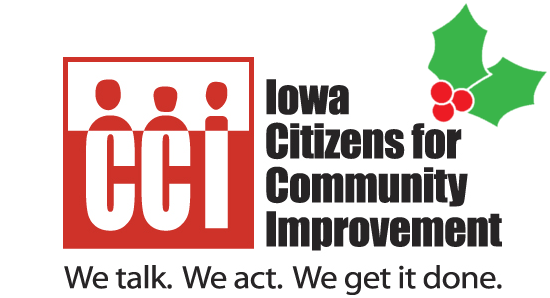 At our staff meeting yesterday we watched the video of the time CCI members caroled the Iowa DNR office with our own version of classic holiday songs.
That prompted us to send you this — our version of a holiday letter, Clean Water, Factory Farm Fighting-style. We hope you'll take the time to give it a read — there are some really great updates and wins from the last few weeks.
Thanks so much for all you do. We're ready to stand with you to build the movement for clean water, a factory farm moratorium, and local control in the New Year!
---
Holiday card blitz! 
Rumor has it that Jeff Hansen – owner of Iowa Select, Iowa's largest hog corporation – has even more factory farms on his Christmas list.
Here's an easy way to stand with fellow Iowans fighting to stop 20 (!!!) proposed Iowa Select hog factories. (Like the Hardin County members who packed their supervisors meeting yesterday, successfully getting them to delay their decision two weeks.)
Send an extra holiday card to tell Jeff that all you want in the New Year is for him to stop building factory farms!
Mail to: Jeff & Debra Hansen, 1469 Glen Oaks Drive, West Des Moines, IA 50265.
Two of our Ames members made the "postcard blitz" popular during the #NoDAPL fight, and we loved the energy it brought to the movement. Check out our Facebook event. Post a picture of the card you are sending and invite your friends to do the same here.
---
Your online actions work!
DNR drops bad proposal to weaken testing of E.Coli in our water
Over 700 Iowans — including at least 216 CCI Action members — submitted comments opposing the Department of Natural Resources' sneaky attempts to weaken testing for E.coli bacteria (which largely comes from factory farm manure) in our precious waterways. This change would've made water impairments harder to track, and put our health and safety at risk. Shout out to the Iowa Environmental Council for sounding the alarm in September.
---
Your call for a factory farm moratorium and local control is gaining steam!
21 Iowa counties have called for stronger rules for factory farms — whether by passing resolutions or writing letters to the state pushing for a moratorium, local control, or strengthening the Master Matrix permitting process.
Over 1,500 members weighed in to say you want a stronger Master Matrix. The EPC is making a recommendation to the legislature, and your energy helped force the public debate in the media.
Farm News — a newspaper which gets delivered to thousands of farmers and rural families in North Central Iowa — is the latest to weigh in for stronger local control. In their editorial "Hog confinements raise concerns: Webster County Supervisors raise valuable scrutiny", they say:
"More broadly, we believe the Legislature should consider giving local governments more discretion in this process. City and county officials are in a better position than DNR bureaucrats to know how a confinement project will impact their communities."
"…perhaps lawmakers should do what county supervisor boards, rural residents, environmental groups and others have asked. If lawmakers can't provide more local control, then they should pass a moratorium on new confinements." 
---
Thanks so much for standing for clean water with us this year.Together we're working to put People & Planet before profits, politics, and polluters. We couldn't have done it without you!
Look for CCI Action's legislative forecast, lobby days, and our annual call for counties to pass the Master Matrix soon!