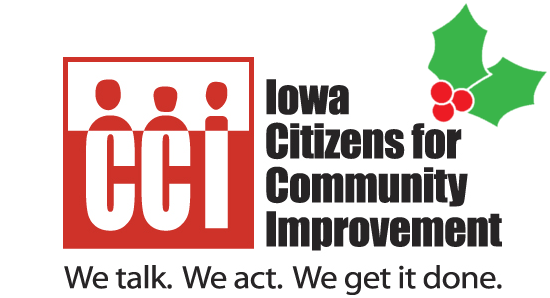 At our staff meeting yesterday we watched the video of the time CCI members caroled the Iowa DNR office with our own version of classic holiday songs.
That prompted us to send you this — our version of a holiday letter, Clean Water, Factory Farm Fighting-style. We hope you'll take the time to give it a read — there are some really great updates and wins from the last few weeks.
Thanks so much for all you do. We're ready to stand with you to build the movement for clean water, a factory farm moratorium, and local control in the New Year!
---
Holiday card blitz! 
Rumor has it that Jeff Hansen – owner of Iowa Select, Iowa's largest hog corporation – has even more factory farms on his Christmas list.
Here's an easy way to stand with fellow Iowans fighting to stop 20 (!!!) proposed Iowa Select hog factories. (Like the Hardin County members who packed their supervisors meeting yesterday, successfully getting them to delay their decision two weeks.)
Send an extra holiday card to tell Jeff that all you want in the New Year is for him to stop building factory farms!
Mail to: Jeff & Debra Hansen, 1469 Glen Oaks Drive, West Des Moines, IA 50265.
Two of our Ames members made the "postcard blitz" popular during the #NoDAPL fight, and we loved the energy it brought to the movement. Check out our Facebook event. Post a picture of the card you are sending and invite your friends to do the same here.
---
Your online actions work!
DNR drops bad proposal to weaken testing of E.Coli in our water
Over 700 Iowans — including at least 216 CCI Action members — submitted comments opposing the Department of Natural Resources' sneaky attempts to weaken testing for E.coli bacteria (which largely comes from factory farm manure) in our precious waterways. This change would've made water impairments harder to track, and put our health and safety at risk. Shout out to the Iowa Environmental Council for sounding the alarm in September.
---
Your call for a factory farm moratorium and local control is gaining steam!
21 Iowa counties have called for stronger rules for factory farms — whether by passing resolutions or writing letters to the state pushing for a moratorium, local control, or strengthening the Master Matrix permitting process.
Over 1,500 members weighed in to say you want a stronger Master Matrix. The EPC is making a recommendation to the legislature, and your energy helped force the public debate in the media.
Farm News — a newspaper which gets delivered to thousands of farmers and rural families in North Central Iowa — is the latest to weigh in for stronger local control. In their editorial "Hog confinements raise concerns: Webster County Supervisors raise valuable scrutiny", they say:
"More broadly, we believe the Legislature should consider giving local governments more discretion in this process. City and county officials are in a better position than DNR bureaucrats to know how a confinement project will impact their communities."
"…perhaps lawmakers should do what county supervisor boards, rural residents, environmental groups and others have asked. If lawmakers can't provide more local control, then they should pass a moratorium on new confinements." 
---
Thanks so much for standing for clean water with us this year.Together we're working to put People & Planet before profits, politics, and polluters. We couldn't have done it without you!
Look for CCI Action's legislative forecast, lobby days, and our annual call for counties to pass the Master Matrix soon!
April 14, 2017
Today, the Iowa Department of Natural Resources (DNR) released its bi-annual impaired waters report required by the Environmental Protection Agency (EPA). The report found that out of 1,378 waterbodies tested over half are impaired. The list jumped from 736 impaired waterbodies in 2014 to 750 impaired waterbodies in 2016.
Since the Nutrient Reduction Strategy (NRS) was created, Iowa has not seen a reduction in the number of impaired waterbodies. The report demonstrates that Iowa's NRS is a colossal failure and that the factory farm industry is a major contributor to Iowa's water pollution crisis.
Iowa's NRS has a goal of reducing Nitrate and Phosphorus pollution entering the Mississippi River by 45% with no deadline marking success or failure, and farmers are asked to voluntarily implement practices that reduce pollution. But members of Iowa CCI say a voluntary program that doesn't address the expanding factory farm industry and has no meaningful monitoring, accountability, or enforcement is destined to fail.
In 2012, Iowa had 30,622,700 acres of farmland, but less than 2% of that land had in-field or edge-of-field nutrient management practices, according to the 2015-2016 Annual NRS Report. $112 million was spent in 2015 and $122 million was spent in 2016 to implement the strategy. This shows that investing in a voluntary strategy does not produce results.
"At this rate, we'll never have water that we can swim in, drink from, or fish in. Voluntary does not work. No industry has ever successfully regulated itself. Big Ag corporations will always put corporate profits and yields above our water quality," said Barb Kalbach, a CCI member and 4th generation family farmer from Dexter.  "The only way we'll begin to clean up Iowa's water is if the legislature passes meaningful, enforceable rules and regulations and make polluters pay the cost."
The impaired waters report states the top three causes of impairments in Iowa's rivers and streams are bacteria, biological, and fish kills, which point to factory farm manure as a major polluter in Iowa.
Iowa has over 9,000 factory farms that produce more than 22 billion gallons of manure annually. According to an Iowa Policy Project report, there are only 15.75 FTE inspectors in the state, meaning the factory farm industry operates unregulated in nearly all aspects.
"This industry is out of control. It's obvious that our legislature is working for the industry because we continue to see false solutions that kick the can down the road using public funds to cleanup corporate ag's water pollution," said Kalbach.
CCI members call on the Iowa Legislature and Governor to 1) pass mandatory, meaningful regulations, 2) force Big Ag corporations to pay for the cost of clean-up, and 3) pass a moratorium on new/expanding factory farms in Iowa.
Join the Fight!
In late October we put out a call for you to write letters to the editor to help advance our narrative around factory farming and the environment.  We want to make sure our legislators hear loud and clear that:
Farming practices that protect our water should be mandatory – voluntary compliance does not work.
Big Ag polluters (like Cargill, Prestage, Farm Bureau, and Monsanto) must pay to clean up the water quality mess they've created – not taxpayers.
Every factory farm in Iowa needs a Clean Water Act permit, meaningful inspections, and tough fines and penalties when violations occur.
Iowa needs a factory farm moratorium now!
Wow!  You knocked it out of the park.  Check out these spot-on letters that were submitted by CCI members from around the state.
DNR's changes to factory farm rules is wrong – Joyce Bollhoefer – Marshalltown Times Republican
CAFO regulations need changing – Tom Willett – Mason City Globe Gazette
EPC changes will make water quality worse – Bernie Fischlowitz-Roberts – Des Moines Register
How, exactly, will sales tax improve water quality? – Erich Riesenberg – Des Moines Register
To Branstad: put moratorium on new hog confinements – Eric Wessels – Des Moines Register
Branstad, Republican-controlled legislature are Iowa's ruin – Jim Walters – Iowa City Press Citizen
This is one way we can shift the narrative and it's not to late to add your name to the list of letter writers!
Submit a letter to the editor to your local paper and send a copy to jess@iowacci.org.
Let us know if there's a letter that we missed.  Send an email to jess@iowacci.org
LIKE and SHARE for a #CleanWaterIowa
This morning Wright County Supervisors voted 3-0 to approve the Prestage Slaughterhouse proposal in spite of strong local and statewide opposition.  CCI members say now it is more important than ever to fight for a moratorium on new or expanding factory farms until Iowa has less than 100 polluted waterways.
"I'm not done fighting for clean air, clean water, strong communities, and for the independent family farmer.  The Supervisors' decision makes me want to fight harder than ever to stop the expansion of corporate ag in our state," said Kathy Schnell, Belmond resident and CCI member.
Iowans across the state have been organizing since March to stop Prestage, an out-of-state corporation and the nation's 5th largest hog producer, from building a 22,000 kill per day slaughter house.
In May clean water fighters organized and successfully pressured the Mason City City Council to deny the use of public money for Prestage which ultimately shut down the project.  This victory in Mason City shows that opposition to this polluting industry is growing.
"We're not against agriculture – we're against corporate ag's system that traps farmers in a cycle of debt. We're against agribusiness that puts their private profits above our communities and above our environment.  We can do better.  It's time for big corporations like Prestage, Iowa Select, Monsanto, and others to get out of Iowa," said CCI member and organizer Erica Blair.
CCI members say public taxpayer money should not be used to prop up a system of agriculture that pollutes our state.
Blair continued, "We will continue this fight by pushing for mandatory regulations that protect our communities and environment and demanding that corporate ag pay to clean up the pollution they create – not the taxpayers.