Bruce Rastetter has applied to build a 4,999 head factory farm about 2 miles North of Williams.  This factory farm alone will add 1,642,172 gallons of manure into our watershed.
Hamilton County already has 212 medium or large factory farms.
Enough is enough. 
Agribusiness corporations like Summit Farms get the profits—we get the pollution.
Factory farms lower our property values, kick independent family farmers out of business, pollute our water and air, and tear our communities apart.
Our air, water, and communities are more important than Bruce Rastetter's profits.
Take Action Now!!!!
Send an email to the Hamilton County Supervisors asking them to take points off the Master Matrix.
Join us on Tuesday, March 6 @ 6:00 pm at the Williams Fire Station on Locust Street for a community planning meeting.
When we stand together, organize, and fight back against greedy proposal like these, we win.
Click the link below to read CCI's full objections to the Rastetter – Williams 15 factory farm application.
Rastetter Objection+cover letter+enclosures
Once again, our members called on supervisors in all 99 Iowa counties to pass a resolution allowing them to use the Master Matrix. Supervisors in 89 counties responded to the call and passed the resolution, allowing them to recommend denial of factory farm applications in 2018.
The Master Matrix is one of the few ways counties and citizens can weigh in on factory farm construction in their communities. We know it's far from perfect, but the Master Matrix is all we have right now. Until we get a moratorium and local control, this is one tool we have to fight factory farms and protect our communities and environment.
For the first time ever, Decatur County Passed the Master Matrix resolution in 2018!
The counties that did not pass the Master Matrix this year have historically abdicated this power by refusing to pass the resolution: Osceola, Plymouth, Warren, Mahaska, Keokuk, Washington, Wapello, Davis, Lee, and Des Moines counties.
The biggest push-back CCI members hear from counties that don't adopt the Master Matrix is based on the complaint that the Iowa Department of Natural Resources ignores recommendations made by counties, despite their utilization of the Master Matrix. Supervisors and residents in these counties feel as if they have no say in what takes place in their own back yard. This shows the need for local control and for the DNR to honor the voices of Iowa citizens standing up against corporate polluters.
Now, our members are taking the next step to get supervisors to use their influence and voice to challenge this rigged system. One in five counties have called for more protections  from the factory farm industry, either by passing resolutions or writing letters to the legislature for a moratorium, local control, and/or strengthening the Master Matrix. CCI members are calling on more county supervisors to join the chorus.
Join the Clean Water Fight
Factory farm proposing to build near you? Have concerns about an existing facility? We can work with you and your community to fight back and stand up for clean air, clean water, and your quality of life.
Members of Iowa Citizens for Community Improvement (Iowa CCI) and the Hardin County community are celebrating yet another victory against Iowa's largest factory farm producer, Iowa Select. Just yesterday, the Department of Natural Resources (DNR) revealed that Iowa Select withdrew their highly contested factory farm expansion application that would have been under the state's minimum separation distance from a residence. This is the 3rd application Iowa Select withdrew after facing massive community opposition and county disapproval.
CCI members say this shows the tides are turning, as more and more Iowans are frustrated with the rapid expansion of this polluting industry.
"We're just thrilled but we know it's just one victory and there's a long battle ahead of us if we want to build an ag system that works for farmers, workers, eaters, and the environment," said Julie Duhn, CCI member and Eldora resident.
Momentum for a moratorium on new and expanding factory farm applications is growing across the state. The Storm Lake Times is the latest newspaper to call for a moratorium and tough oversight of the factory farm industry. Storm Lake Times follows Farm News calling for local control, the Des Moines Register calling for a moratorium, and the Fort Dodge Messenger calling for stronger permitting standards by strengthening the Master Matrix.
An addition, 1 in 5 Iowa counties have taken action to tell the legislature to either pass a moratorium, strengthen the Master Matrix, or give counties local control.
"The industry thinks they can slam as many of these factories down our throat, but they forgot the power of organized people. Good neighbors don't pollute our water and air," said Duhn. "Jeff Hansen doesn't have to worry about factory farms near his house – he lives in a gated community in West Des Moines. He gets the profits and we get the pollution."
"Iowa Select says opposition comes from people outside the county and that they are controlling the conversation against factory farm expansion.  They are wrong.  We are citizens, we are Iowans who want clean water, clean air, sense of community, and a decent quality of life."
CCI members will continue to organize to stop two pending Iowa Select applications in Humboldt and Calhoun counties and any future applications that are submitted.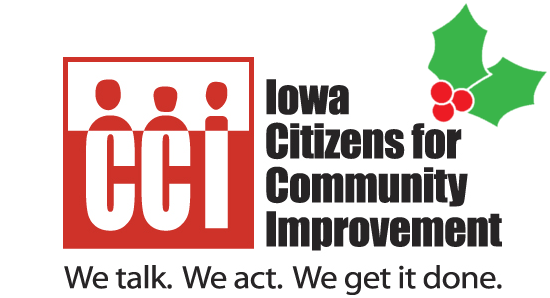 At our staff meeting yesterday we watched the video of the time CCI members caroled the Iowa DNR office with our own version of classic holiday songs.
That prompted us to send you this — our version of a holiday letter, Clean Water, Factory Farm Fighting-style. We hope you'll take the time to give it a read — there are some really great updates and wins from the last few weeks.
Thanks so much for all you do. We're ready to stand with you to build the movement for clean water, a factory farm moratorium, and local control in the New Year!
---
Holiday card blitz! 
Rumor has it that Jeff Hansen – owner of Iowa Select, Iowa's largest hog corporation – has even more factory farms on his Christmas list.
Here's an easy way to stand with fellow Iowans fighting to stop 20 (!!!) proposed Iowa Select hog factories. (Like the Hardin County members who packed their supervisors meeting yesterday, successfully getting them to delay their decision two weeks.)
Send an extra holiday card to tell Jeff that all you want in the New Year is for him to stop building factory farms!
Mail to: Jeff & Debra Hansen, 1469 Glen Oaks Drive, West Des Moines, IA 50265.
Two of our Ames members made the "postcard blitz" popular during the #NoDAPL fight, and we loved the energy it brought to the movement. Check out our Facebook event. Post a picture of the card you are sending and invite your friends to do the same here.
---
Your online actions work!
DNR drops bad proposal to weaken testing of E.Coli in our water
Over 700 Iowans — including at least 216 CCI Action members — submitted comments opposing the Department of Natural Resources' sneaky attempts to weaken testing for E.coli bacteria (which largely comes from factory farm manure) in our precious waterways. This change would've made water impairments harder to track, and put our health and safety at risk. Shout out to the Iowa Environmental Council for sounding the alarm in September.
---
Your call for a factory farm moratorium and local control is gaining steam!
21 Iowa counties have called for stronger rules for factory farms — whether by passing resolutions or writing letters to the state pushing for a moratorium, local control, or strengthening the Master Matrix permitting process.
Over 1,500 members weighed in to say you want a stronger Master Matrix. The EPC is making a recommendation to the legislature, and your energy helped force the public debate in the media.
Farm News — a newspaper which gets delivered to thousands of farmers and rural families in North Central Iowa — is the latest to weigh in for stronger local control. In their editorial "Hog confinements raise concerns: Webster County Supervisors raise valuable scrutiny", they say:
"More broadly, we believe the Legislature should consider giving local governments more discretion in this process. City and county officials are in a better position than DNR bureaucrats to know how a confinement project will impact their communities."
"…perhaps lawmakers should do what county supervisor boards, rural residents, environmental groups and others have asked. If lawmakers can't provide more local control, then they should pass a moratorium on new confinements." 
---
Thanks so much for standing for clean water with us this year.Together we're working to put People & Planet before profits, politics, and polluters. We couldn't have done it without you!
Look for CCI Action's legislative forecast, lobby days, and our annual call for counties to pass the Master Matrix soon!
Victory!  We haven't stopped the Iowa Select factory farm yet, but it's safe to say that we planted enough doubt in the minds of Hardin County supervisors that they delayed their decision until Wednesday, December 27 @ 10am.  That means we have two more weeks to organize and put pressure on Iowa Select and the Supervisors to stop this factory farm expansion.
Around 30 people showed up in opposition to Iowa Select's factor farm at Wednesday's hearing. Their powerful testimonies covered a range of topics, including air, water and quality of life pollution, property value loss, loss of the family farmer, lost county tax revenue, destruction of historical places, and destruction of county values and vision.  You can watch the hearing here.
We were powerful, organized, and unified.  Even Senator Johnson, Independent State Senator from Osceola County, joined us at the hearing to set the record straight about what power the Supervisors have. He made it clear that the supervisors have the power to take points off the Master Matrix and recommend that DNR deny the application.
Over the past couple months, Iowa Select has submitted 20 applications in 9 counties to build or expand factory farms. These new factory farms will produce millions more gallons of manure each year.  You know that Iowa's water is already polluted, including Pine Lake in Hardin County, and we don't need any more manure in our state!
We've also heard rumors that Iowa Select has plans for 19 new factory farms in Hardin County alone in 2018. 
That's why we have to use the next two weeks to pressure the Supervisors to take points of the Master Matrix, and we have to pressure Iowa Select to stop building factory farms in our communities.
Here are the next steps in our campaign to stop the Hardin County Iowa Select factory farm:
Attend the Supervisor hearing in Eldora (courthouse) on Wednesday, December 27th @ 10am

We need to outnumber Iowa Select!

Call your Supervisors and Iowa Select and tell them why they should stop the expansion

Iowa Select – 641-648-4479
BJ Hoffman – 641-939-8220
Lance Granzow – 641-939-8221
Renee McClelland – 641-939-8222

Join Iowa CCI as a member to support our work to stop factory farms and fight for clean water across the state.
Iowa Select may have money, but we have each other.  Wednesday's hearing showed that when we come together and organize, we can stop big money. Please contact Iowa CCI at 515-282-0484 if you have any questions.
Join the Fight!
Iowa Select, the state's largest hog corporation, wants to build 19 new factory farms  across Iowa. That's nearly 90,000 more hogs producing an estimated 36.7 million gallons of manure – enough to fill 55 Olympic-size swimming pools. This news comes amidst public calls for a moratorium on new factory farms.
Can you attend these public hearings to help stop Iowa Select?
Email iowacci@iowacci.org to let us know if you're attending any of these hearings so we can send our objections to the applications. Click here for a list of County Supervisors and addresses of the meetings.
Franklin County – Supervisors failed the Matrix and recommended denial.
Hansell Finisher Farm – #69641 – 5,000 head – decision due by 11/20
Public hearing: November 6 at 10 AM
Humboldt County – Zoning Board of Adjustments is recommending the Supervisors deny the application.
Texas Finisher Farm – #69650 – 5,000 head – decision due by 11/25
Supervisors vote: November 20 at 6 PM – make sure they take points off the Matrix.
Bremer County – Supervisors approved the application.
Lafayette Finisher Farm – #69645 – 5,000 head – decision due by 11/20
Public hearing: November 9 at 11 AM and November 13 at 11 AM
Wright County – Supervisors approved both applications but sending a recommendation to DNR for more environmental protections.
Ladd Finisher Farm – #69636 – 5,000 head – due 11/17/17
Buchanan Finisher Farm – #69635 – 5,000 head – due 11/17/17
Public hearing: November 13 at 9:30 AM
Palo Alto County – Supervisors approved the application.
Fairville Finisher Farm – #69637 – 7,490 head – decision due by 11/17
Public hearing: November 13 at 7 PM; goes to supervisors on November 14
Hamilton County – Supervisors approved the applications.
Doolan Finisher Farm – #69634 – 7,490 head – due 11/17/17
Abbott Finisher Farm – #69633 – 5,000 head – due 11/16/17
Chase Finisher Farm – #69632 – 5,000 head – due 11/16/17
Stagecoach Finisher Farm – #69631—5,000 head – due 11/16/17
Greenfield Fox Finisher – #68545 – 5,000 head (expansion 2,510 head) – due by 11/06/17 (approved)
Public hearing: November 14 at 9 AM
Webster County – Supervisors denied two on principle, but did not fail the Master Matrix.  They did approve one of the applications.
Newark Finisher Farm – #69649 – 7,490 head – decision due by 11/21
Dunco Finisher Farm – #69648 – 5,000 head – decision due by 11/21
Carter Finisher Farm – #69647 – 5,000 head – decision due by 11/21
Public hearing: November 14 at 10 AM
Dallas County
Connolly Pork Finisher Farm – #69576 – 2,490 head – unpermitted
Pauley Finisher Farm – #69577 – 2,490 head – unpermitted
Charlie Pork Finisher Farm – #69574 – 2,490 head – unpermitted
Kent Finisher Farm – #69575 – 2,490 head – unpermitted
Gift Pork Finisher Farm – #69573 – 2,490 head – unpermitted
No public hearing. Call Iowa Select at 641-648-4479 and Robert Manning at 515-321-3004 and tell them to withdraw their applications.
Click the link to view our People Involved Contact Sheet – Iowa Select with contact information of the people that can help stop the Iowa Select Factory Farms.
Click here to add your name to the Stop Iowa Select! petition.
Join the Fight!