Press release:
DNR/EPC MISSED MAJOR ERROR IN IOWA SELECT FACTORY FARM APPLICATION
Today Iowa's Environmental Protection Commission (EPC) took no action on a Humboldt County appeal of a factory farm permit approved by DNR in January, despite being denied at the county level.   However, county officials say they will be voting to appeal this in District Court at an upcoming meeting, if ultimately approved.
During the hearing it was brought to everyone's attention that Iowa DNR did not do it's due diligence after Iowa Select submitted an apparently erroneous application.  The nearest home to the proposed factory farm is also a business; which changes the points they received for separation distances from a commercial enterprise, item 3 on the Master Matrix.  This would lower the Master Matrix score from 445 to 420 – a failing grade which would automatically deny the permit to build the factory farm.
"It appears that Iowa Select is not a good neighbor because if they were they would have known about our business," said Lynsy Harrigan, daughter of the nearest neighbors of the proposed factory farm in Humboldt County.  "It seems  like Iowa Select only cares about its profits, not about the Iowans they negatively impact.  We need local control."
However, Iowa Select attempted to make a case that the neighbors business was not a business.  State law (567—65.1 (459,459B) Definitions) says:
"Commercial enterprise" means a building which is used as a part of a business that manufactures goods, delivers services, or sells goods or services, which is customarily and regularly used by the general public during the entire calendar year and which is connected to electric, water, and sewer systems. A commercial enterprise does not include a farm operation.
The business, located less than a quarter mile away, meets all the definitions of a commercial enterprise under state law.
To address this new finding, EPC member Bob Sinclair, made a motion to table the decision, which failed.  Then EPC member Mary Boote, motioned to approve the application, which also failed.
EPC member Howard Hill abstained from voting because of a conflict of interest having worked for Iowa Select most of his life. This conflict of interest comes in addition to the $275,000 in campaign donations to Governor Reynolds from the owners of Iowa Select.
Members of Iowa Citizens for Community Improvement will continue to organize community members in Humboldt County as they challenge Iowa Select's unwanted expansion.
This hearing also comes after two more counties – Fremont and Fayette – recently passed resolutions calling for more protections from the factory farm industry.
According to the USDA Ag Census, in 1978, Iowa had 57,325 farmers raising hogs on diversified livestock operations all across the state.  But in 2012, we had just 6,266 farmers raising hogs," said Shari Hawk, CCI member from Ankeny.  "As we've increased the number of factory farms in our state, we've lost our independent family farmers who were once the backbone of our communities.  It's time for a moratorium on factory farms."
Iowa Select is the largest hog producer in Iowa and the fifth largest nationally. The factory farm application contested by Humboldt County is one of 20+ factory farms that Iowa Select proposed in the span of about two months. The EPC was originally scheduled to hear Hardin County's appeal of an Iowa Select factory farm as well, but Iowa Select withdrew that application in response to mounting public pressure.
Iowa Citizens for Community Improvement is a statewide, grassroots people's action group that uses community organizing to win public policy that puts communities before corporations and people before profits, politics and polluters. CCI has been fighting to put people first for over 40 years. Follow us on Twitter at @iowacci.
###
Once again, our members called on supervisors in all 99 Iowa counties to pass a resolution allowing them to use the Master Matrix. Supervisors in 89 counties responded to the call and passed the resolution, allowing them to recommend denial of factory farm applications in 2018.
The Master Matrix is one of the few ways counties and citizens can weigh in on factory farm construction in their communities. We know it's far from perfect, but the Master Matrix is all we have right now. Until we get a moratorium and local control, this is one tool we have to fight factory farms and protect our communities and environment.
For the first time ever, Decatur County Passed the Master Matrix resolution in 2018!
The counties that did not pass the Master Matrix this year have historically abdicated this power by refusing to pass the resolution: Osceola, Plymouth, Warren, Mahaska, Keokuk, Washington, Wapello, Davis, Lee, and Des Moines counties.
The biggest push-back CCI members hear from counties that don't adopt the Master Matrix is based on the complaint that the Iowa Department of Natural Resources ignores recommendations made by counties, despite their utilization of the Master Matrix. Supervisors and residents in these counties feel as if they have no say in what takes place in their own back yard. This shows the need for local control and for the DNR to honor the voices of Iowa citizens standing up against corporate polluters.
Now, our members are taking the next step to get supervisors to use their influence and voice to challenge this rigged system. One in five counties have called for more protections  from the factory farm industry, either by passing resolutions or writing letters to the legislature for a moratorium, local control, and/or strengthening the Master Matrix. CCI members are calling on more county supervisors to join the chorus.
Join the Clean Water Fight
Factory farm proposing to build near you? Have concerns about an existing facility? We can work with you and your community to fight back and stand up for clean air, clean water, and your quality of life.
Members of Iowa Citizens for Community Improvement (Iowa CCI) and the Hardin County community are celebrating yet another victory against Iowa's largest factory farm producer, Iowa Select. Just yesterday, the Department of Natural Resources (DNR) revealed that Iowa Select withdrew their highly contested factory farm expansion application that would have been under the state's minimum separation distance from a residence. This is the 3rd application Iowa Select withdrew after facing massive community opposition and county disapproval.
CCI members say this shows the tides are turning, as more and more Iowans are frustrated with the rapid expansion of this polluting industry.
"We're just thrilled but we know it's just one victory and there's a long battle ahead of us if we want to build an ag system that works for farmers, workers, eaters, and the environment," said Julie Duhn, CCI member and Eldora resident.
Momentum for a moratorium on new and expanding factory farm applications is growing across the state. The Storm Lake Times is the latest newspaper to call for a moratorium and tough oversight of the factory farm industry. Storm Lake Times follows Farm News calling for local control, the Des Moines Register calling for a moratorium, and the Fort Dodge Messenger calling for stronger permitting standards by strengthening the Master Matrix.
An addition, 1 in 5 Iowa counties have taken action to tell the legislature to either pass a moratorium, strengthen the Master Matrix, or give counties local control.
"The industry thinks they can slam as many of these factories down our throat, but they forgot the power of organized people. Good neighbors don't pollute our water and air," said Duhn. "Jeff Hansen doesn't have to worry about factory farms near his house – he lives in a gated community in West Des Moines. He gets the profits and we get the pollution."
"Iowa Select says opposition comes from people outside the county and that they are controlling the conversation against factory farm expansion.  They are wrong.  We are citizens, we are Iowans who want clean water, clean air, sense of community, and a decent quality of life."
CCI members will continue to organize to stop two pending Iowa Select applications in Humboldt and Calhoun counties and any future applications that are submitted. 
This year 89 counties passed the Master Matrix resolution. The Master Matrix resolution gives supervisors the ability to recommend factory farms for denial.
BIG shout out to everyone who contacted their supervisor about the Master Matrix resolution – you do great work.
Figure 1: counties that have passed the Master Matrix Resolution and sent it in to the DNR for 2019.
We have the Master Matrix and it's a tool that we will use since we have it. But what we really need is a Moratorium.
You and I both know the Master Matrix is broken. It is no substitute for local control, and we have too many factory farms. What we really need is a moratorium. Tell your county supervisors to pass a non binding moratorium resolution to send a strong message to elected officials that enough is enough.
These non binding resolutions send a powerful message to the state legislature. Tell your supervisors to pass a moratorium resolution by March 8th the legislatures "first funnel". A key day during the legislative session, this will show widespread support for our Moratorium bill.
Twenty three counties have passed a resolution calling for stronger regulations, local control and even a moratorium on factory farms. Check out the map below to see if your county has passed a moratorium resolution.
Figure 2: counties that have passed a resolution calling for a moratorium, local control or stronger permitting standards.
Join the Clean Water Fight
Factory farm proposing to build near you? Have concerns about an existing facility? We can work with you and your community to fight back and stand up for clean air, clean water, and your quality of life.
January 4, 2017
At the tail end of 2017, CCI members in Hardin County successfully pressured their county supervisors to vote 2-1 to deny an Iowa Select hog factory expansion! This happened because the community showed up, spoke out and got organized.
Here's what Iowa Select did next: They published full-page ads in multiple Hardin County newspapers in attempts to win over the community – even going so far as to say "Manure can actually improve our water quality."
You know what? We call that a victory, too. We've forced the 5th largest hog producer in the country to go on defense. That means we're making strides in the court of public opinion.
But, we're not out of the woods yet: the application is headed to the Department of Natural Resources, who will make the ultimate decision on whether or not Iowa Select can expand its factory farm. This means we'll likely need to go back to the supervisors and ask them to appeal the DNR's approval of the factory farm.
Here are the next steps to stop this Iowa Select factory farm:
Attend the Supervisor hearing in Eldora (courthouse) on Wednesday, January 10 @ 10am

Let's keep encouraging the supervisors to do the right thing!

Call the Hardin County Supervisors and ask them to appeal if DNR approves this factory farm

BJ Hoffman – 641-939-8220
Lance Granzow – 641-939-8221
Renee McClelland – 641-939-8222

Join Iowa CCI as a member to support our work to stop factory farms and fight for clean water across the state.
Join the Fight!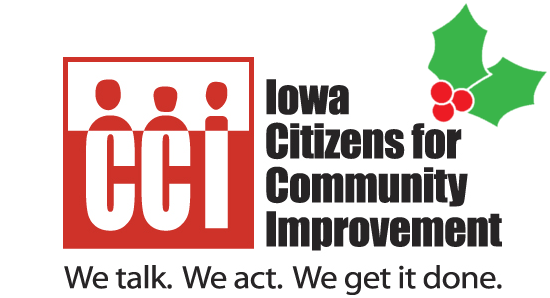 At our staff meeting yesterday we watched the video of the time CCI members caroled the Iowa DNR office with our own version of classic holiday songs.
That prompted us to send you this — our version of a holiday letter, Clean Water, Factory Farm Fighting-style. We hope you'll take the time to give it a read — there are some really great updates and wins from the last few weeks.
Thanks so much for all you do. We're ready to stand with you to build the movement for clean water, a factory farm moratorium, and local control in the New Year!
---
Holiday card blitz! 
Rumor has it that Jeff Hansen – owner of Iowa Select, Iowa's largest hog corporation – has even more factory farms on his Christmas list.
Here's an easy way to stand with fellow Iowans fighting to stop 20 (!!!) proposed Iowa Select hog factories. (Like the Hardin County members who packed their supervisors meeting yesterday, successfully getting them to delay their decision two weeks.)
Send an extra holiday card to tell Jeff that all you want in the New Year is for him to stop building factory farms!
Mail to: Jeff & Debra Hansen, 1469 Glen Oaks Drive, West Des Moines, IA 50265.
Two of our Ames members made the "postcard blitz" popular during the #NoDAPL fight, and we loved the energy it brought to the movement. Check out our Facebook event. Post a picture of the card you are sending and invite your friends to do the same here.
---
Your online actions work!
DNR drops bad proposal to weaken testing of E.Coli in our water
Over 700 Iowans — including at least 216 CCI Action members — submitted comments opposing the Department of Natural Resources' sneaky attempts to weaken testing for E.coli bacteria (which largely comes from factory farm manure) in our precious waterways. This change would've made water impairments harder to track, and put our health and safety at risk. Shout out to the Iowa Environmental Council for sounding the alarm in September.
---
Your call for a factory farm moratorium and local control is gaining steam!
21 Iowa counties have called for stronger rules for factory farms — whether by passing resolutions or writing letters to the state pushing for a moratorium, local control, or strengthening the Master Matrix permitting process.
Over 1,500 members weighed in to say you want a stronger Master Matrix. The EPC is making a recommendation to the legislature, and your energy helped force the public debate in the media.
Farm News — a newspaper which gets delivered to thousands of farmers and rural families in North Central Iowa — is the latest to weigh in for stronger local control. In their editorial "Hog confinements raise concerns: Webster County Supervisors raise valuable scrutiny", they say:
"More broadly, we believe the Legislature should consider giving local governments more discretion in this process. City and county officials are in a better position than DNR bureaucrats to know how a confinement project will impact their communities."
"…perhaps lawmakers should do what county supervisor boards, rural residents, environmental groups and others have asked. If lawmakers can't provide more local control, then they should pass a moratorium on new confinements." 
---
Thanks so much for standing for clean water with us this year.Together we're working to put People & Planet before profits, politics, and polluters. We couldn't have done it without you!
Look for CCI Action's legislative forecast, lobby days, and our annual call for counties to pass the Master Matrix soon!