(Español abajo)
For years, ICE has been terrorizing our communities with little to no accountability. From the recent raid in Mount Pleasant where workers were racially profiled, detained, and some even tazed or beaten by ICE agents to the consistent individual pick-ups across Iowa, it's clear that ICE has gone rogue.
Enough is enough.
Join Iowa CCI and ally organizations for a series of meetings across Iowa where we'll discuss how to keep ICE out of our communities. We've invited several powerful immigrant rights organizers from across the country to collaborate with us.
Priscila Martinez is the Texas Immigration Coalition Coordinator for the Workers Defense Action Fund where she organizes to block ICE activity and prevent deportations while lifting up immigrant stories across Texas.
Salvador Cervantes is the Midwest Regional Director for Fair Immigration Reform Movement (FIRM), a national organization that works to elevate immigrant rights in politics. Salvador has organized in several states to fight and repeal laws like SF481. 
We'll discuss several key topics including:
Best practices to protect and organize families

Key communication strategies to counter ICE's "criminal" narrative

Collaborative efforts to develop local policies that welcome immigrants
Now, more than ever, we must work together to make Iowa a safe and welcoming place for all people.
Join us at one – or all! – of the following events:
Stand up to ICE and tell them NOT IN OUR TOWN!
RSVP TODAY! Then share these events with your friends on social media. The more people we have with us, the more powerful we become.
For a better – more welcoming – Iowa,
Maddie Cano
Community Organizer
P.S. Read about some of the work Priscila Martinez is doing in Texas!
——–
Durante años, ICE ha estado aterrorizando a nuestras comunidades con poca o ninguna responsabilidad. Desde la reciente incursión en Mount Pleasant, donde los trabajadores fueron racialmente perfilados, detenidos, y algunos incluso tarados o golpeados por los agentes de ICE a las repetidas ataques individuales en Iowa, está claro que ICE se ha convertido en una agencia forajida.
¡Basta!
Únase a Iowa CCI y organizaciones aliadas para una serie de reuniones en Iowa, donde discutiremos cómo mantener el ICE fuera de nuestras comunidades. Hemos invitado a varios organizadores poderosos de derechos de inmigrantes de todo el país para que colaboren con nosotros.
Priscila Martínez es la Coordinadora de la Coalición de Inmigración de Texas para Workers Defense Action Fund, donde se organiza para bloquear la actividad de ICE y prevenir las deportaciones mientras levanta las experiencias de inmigrantes en todo Texas.
Salvador Cervantes es el Director Regional del Medio Oeste del Fair Immigration Reform Movement (FIRM), una organización nacional que trabaja para elevar los derechos de los inmigrantes en la política. Salvador se ha organizado en varios estados para luchar y revocar leyes como SF481.
Discutiremos varios temas clave, que incluyen:
Las mejores prácticas para proteger y organizar a las familias

Estrategias clave de comunicación para contrarrestar la narrativa "criminal" de ICE

Esfuerzos de colaboración para desarrollar políticas locales que reciban inmigrantes
Ahora, más que nunca, debemos trabajar juntos para hacer de Iowa un lugar seguro y acogedor para todas las personas.
Únete a nosotros en uno – o todos! – de los siguientes eventos:
¡Levántate a ICE y diles NO EN NUESTRA COMUNIDAD!
¡RSVP HOY! Luego comparte estos eventos con tus amigos en las redes sociales. Cuantas más personas tenemos con nosotros, más poderosos nos volvemos.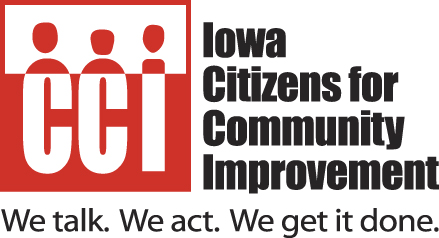 FOR IMMEDIATE RELEASE
Tuesday, May 15, 2018
CONTACT: Jess Mazour, 515-282-0484 or jess@iowacci.org
One Hundred People Gather at Iowa Select Headquarters to Demand an End to Jeff Hansen's Factory Farm Expansion
Factory farm fighters from across the state stand together calling for a moratorium
Iowa Falls, IA – This afternoon, nearly one hundred people gathered at Iowa Select's office in Iowa Falls to demand CEO Jeff Hansen withdraw all pending factory farm applications and immediately stop building factory farms. With over 500 factory farms, Iowa Select is the largest pork producer in the state and has been expanding aggressively in the past year, despite mounting public calls for clean water and a moratorium.
"Iowa Select is expanding rapidly all across Iowa with no concern for our rural communities, our health, our water, or our air," said Julie Duhn, a CCI member from Eldora. "As you can see from all the people here, this is a statewide fightback, and our only hope of stopping this out-of-control industry is if we fight back together. We can't back down now, or big money corporations like Iowa Select will just continue exploiting us."
"Factory farms dump pollution on our beautiful state and the industry doesn't even pretend to care. Our legislators apparently don't care, either. Since our politicians appear to be bought and sold by the industry, our communities have been stripped of local control with virtually no protections from factory farm pollution," said Nick Schutt, a CCI member from Alden. "We're left with no other choice than to take our message directly to Jeff Hansen and demand he stop this out-of-control expansion."
In 2017, the Hansen family donated $275,000 to the gubernatorial campaign for Governor Kim Reynolds.
Community members delivered a letter to Hansen.
"Building factory farms is not Iowa nice. Polluting our precious water with millions of gallons of untreated manure is not Iowa nice. Sickening our communities with hazardous air emissions is not Iowa nice," the letter read.
Iowa Select has been the subject of widespread scrutiny because of its massive factory farm expansion over the past year. Iowa CCI identified at least 27 factory farm applications associated with Iowa Select in the past six months, adding to more than 137,000 hogs. Iowa State University's swine manure calculator estimates that this many finishing hogs would produce 57.5 million gallons of manure per year. These figures may be low, however, because Iowa Select uses various LLCs on their applications, making it difficult to identify all of their factory farms.
In an interview with Successful Farming last year, Hansen acknowledged that the new slaughterhouses coming online – including the Prestage slaughterhouse south of Eagle Grove – are driving his expansion.
The company also regularly builds factory farms just under the threshold that would trigger more state and local oversight. For instance, confinements with 2,500 head of hogs require the Master Matrix – but Iowa Select often avoids it by applying for confinements with 2,490 head of hogs.
"Iowa Select's huge expansion is just one more sign that we need a factory farm moratorium now," said Dave Haynes, a CCI member from Duncombe. "We're at a tipping point. Enough is enough!"
"Iowa Select does not represent our vision for Iowa. We want more family farms, not fewer. We want clean water, not dirty water. We want thriving communities, not corporate-controlled communities," said Emma Schmit, a CCI member from Rockwell City. "For that to happen, it takes all of us coming together in this battle of David vs. Goliath."
Iowa Citizens for Community Improvement is a statewide, grassroots people's action group that uses community organizing to win public policy that puts communities before corporations and people before profits, politics and polluters. CCI has been fighting to put people first for over 40 years. Follow us on Twitter at @iowacci.
###
Bruce Rastetter has applied to build a 4,999 head factory farm about 2 miles North of Williams.  This factory farm alone will add 1,642,172 gallons of manure into our watershed.
Hamilton County already has 212 medium or large factory farms.
Enough is enough. 
Agribusiness corporations like Summit Farms get the profits—we get the pollution.
Factory farms lower our property values, kick independent family farmers out of business, pollute our water and air, and tear our communities apart.
Our air, water, and communities are more important than Bruce Rastetter's profits.
Take Action Now!!!!
Send an email to the Hamilton County Supervisors asking them to take points off the Master Matrix.
Join us on Tuesday, March 6 @ 6:00 pm at the Williams Fire Station on Locust Street for a community planning meeting.
When we stand together, organize, and fight back against greedy proposal like these, we win.
Click the link below to read CCI's full objections to the Rastetter – Williams 15 factory farm application.
Rastetter Objection+cover letter+enclosures
Press release:
DNR/EPC MISSED MAJOR ERROR IN IOWA SELECT FACTORY FARM APPLICATION
Today Iowa's Environmental Protection Commission (EPC) took no action on a Humboldt County appeal of a factory farm permit approved by DNR in January, despite being denied at the county level.   However, county officials say they will be voting to appeal this in District Court at an upcoming meeting, if ultimately approved.
During the hearing it was brought to everyone's attention that Iowa DNR did not do it's due diligence after Iowa Select submitted an apparently erroneous application.  The nearest home to the proposed factory farm is also a business; which changes the points they received for separation distances from a commercial enterprise, item 3 on the Master Matrix.  This would lower the Master Matrix score from 445 to 420 – a failing grade which would automatically deny the permit to build the factory farm.
"It appears that Iowa Select is not a good neighbor because if they were they would have known about our business," said Lynsy Harrigan, daughter of the nearest neighbors of the proposed factory farm in Humboldt County.  "It seems  like Iowa Select only cares about its profits, not about the Iowans they negatively impact.  We need local control."
However, Iowa Select attempted to make a case that the neighbors business was not a business.  State law (567—65.1 (459,459B) Definitions) says:
"Commercial enterprise" means a building which is used as a part of a business that manufactures goods, delivers services, or sells goods or services, which is customarily and regularly used by the general public during the entire calendar year and which is connected to electric, water, and sewer systems. A commercial enterprise does not include a farm operation.
The business, located less than a quarter mile away, meets all the definitions of a commercial enterprise under state law.
To address this new finding, EPC member Bob Sinclair, made a motion to table the decision, which failed.  Then EPC member Mary Boote, motioned to approve the application, which also failed.
EPC member Howard Hill abstained from voting because of a conflict of interest having worked for Iowa Select most of his life. This conflict of interest comes in addition to the $275,000 in campaign donations to Governor Reynolds from the owners of Iowa Select.
Members of Iowa Citizens for Community Improvement will continue to organize community members in Humboldt County as they challenge Iowa Select's unwanted expansion.
This hearing also comes after two more counties – Fremont and Fayette – recently passed resolutions calling for more protections from the factory farm industry.
According to the USDA Ag Census, in 1978, Iowa had 57,325 farmers raising hogs on diversified livestock operations all across the state.  But in 2012, we had just 6,266 farmers raising hogs," said Shari Hawk, CCI member from Ankeny.  "As we've increased the number of factory farms in our state, we've lost our independent family farmers who were once the backbone of our communities.  It's time for a moratorium on factory farms."
Iowa Select is the largest hog producer in Iowa and the fifth largest nationally. The factory farm application contested by Humboldt County is one of 20+ factory farms that Iowa Select proposed in the span of about two months. The EPC was originally scheduled to hear Hardin County's appeal of an Iowa Select factory farm as well, but Iowa Select withdrew that application in response to mounting public pressure.
Iowa Citizens for Community Improvement is a statewide, grassroots people's action group that uses community organizing to win public policy that puts communities before corporations and people before profits, politics and polluters. CCI has been fighting to put people first for over 40 years. Follow us on Twitter at @iowacci.
###
Once again, our members called on supervisors in all 99 Iowa counties to pass a resolution allowing them to use the Master Matrix. Supervisors in 89 counties responded to the call and passed the resolution, allowing them to recommend denial of factory farm applications in 2018.
The Master Matrix is one of the few ways counties and citizens can weigh in on factory farm construction in their communities. We know it's far from perfect, but the Master Matrix is all we have right now. Until we get a moratorium and local control, this is one tool we have to fight factory farms and protect our communities and environment.
For the first time ever, Decatur County Passed the Master Matrix resolution in 2018!
The counties that did not pass the Master Matrix this year have historically abdicated this power by refusing to pass the resolution: Osceola, Plymouth, Warren, Mahaska, Keokuk, Washington, Wapello, Davis, Lee, and Des Moines counties.
The biggest push-back CCI members hear from counties that don't adopt the Master Matrix is based on the complaint that the Iowa Department of Natural Resources ignores recommendations made by counties, despite their utilization of the Master Matrix. Supervisors and residents in these counties feel as if they have no say in what takes place in their own back yard. This shows the need for local control and for the DNR to honor the voices of Iowa citizens standing up against corporate polluters.
Now, our members are taking the next step to get supervisors to use their influence and voice to challenge this rigged system. One in five counties have called for more protections  from the factory farm industry, either by passing resolutions or writing letters to the legislature for a moratorium, local control, and/or strengthening the Master Matrix. CCI members are calling on more county supervisors to join the chorus.
Join the Clean Water Fight
Factory farm proposing to build near you? Have concerns about an existing facility? We can work with you and your community to fight back and stand up for clean air, clean water, and your quality of life.
Members of Iowa Citizens for Community Improvement (Iowa CCI) and the Hardin County community are celebrating yet another victory against Iowa's largest factory farm producer, Iowa Select. Just yesterday, the Department of Natural Resources (DNR) revealed that Iowa Select withdrew their highly contested factory farm expansion application that would have been under the state's minimum separation distance from a residence. This is the 3rd application Iowa Select withdrew after facing massive community opposition and county disapproval.
CCI members say this shows the tides are turning, as more and more Iowans are frustrated with the rapid expansion of this polluting industry.
"We're just thrilled but we know it's just one victory and there's a long battle ahead of us if we want to build an ag system that works for farmers, workers, eaters, and the environment," said Julie Duhn, CCI member and Eldora resident.
Momentum for a moratorium on new and expanding factory farm applications is growing across the state. The Storm Lake Times is the latest newspaper to call for a moratorium and tough oversight of the factory farm industry. Storm Lake Times follows Farm News calling for local control, the Des Moines Register calling for a moratorium, and the Fort Dodge Messenger calling for stronger permitting standards by strengthening the Master Matrix.
An addition, 1 in 5 Iowa counties have taken action to tell the legislature to either pass a moratorium, strengthen the Master Matrix, or give counties local control.
"The industry thinks they can slam as many of these factories down our throat, but they forgot the power of organized people. Good neighbors don't pollute our water and air," said Duhn. "Jeff Hansen doesn't have to worry about factory farms near his house – he lives in a gated community in West Des Moines. He gets the profits and we get the pollution."
"Iowa Select says opposition comes from people outside the county and that they are controlling the conversation against factory farm expansion.  They are wrong.  We are citizens, we are Iowans who want clean water, clean air, sense of community, and a decent quality of life."
CCI members will continue to organize to stop two pending Iowa Select applications in Humboldt and Calhoun counties and any future applications that are submitted.