Tuesday in Calhoun County, County Supervisors appealed the Iowa Department of Natural Resources decision to permit Burr Oak Growers LLC.
Supervisors responded to efforts of Iowa CCI members who have been fighting to stop this factory farm because of water quality, air quality, and quality of life concerns. You held community planning meetings, gathered signatures, and contributed public testimony in opposition to out-of-state Burr Oak Growers LLC's plan to expand factory farm operations in Iowa.
This was the first time the County Supervisors have voted to appeal an intent to permit by the DNR. The decision is a product of the inundation of factory farms in Calhoun County. There are already 164 factory farms in the county.
Contact:
Jess Mazour, Community Organizer, 515-282-0484, jess@iowacci.org
Des Moines, IA. – The Iowa State Association of Counties (ISAC) legislative committee finalized their 2019 legislative priorities at their annual meeting last week.  The legislative recommendations include changes to Iowa's factory farm permitting and tax systems.
Iowa CCI members are pointing to the action as a sign of growing support for a factory farm moratorium on new and expanding factory farms in Iowa.
The ISAC legislative proposal includes addressing the failure of the Master Matrix and making factory farms pay their fair share of taxes:
"As this subject continues to be of growing concern to some county boards of supervisors, ISAC strongly encourages that this [Master Matrix] review be conducted by 2020."
"The result is that the construction of any new agricultural building adds zero net value to Iowa's property tax base.  This situation is doubly problematic because large-scale livestock operations and grain facilities impose significant additional costs on counties, such as for road maintenance, without expanding the tax base to help pay for those costs."
"It's about time that ISAC recognizes that factory farms are harming Iowa counties – not helping them," said Barb Kalbach, family farmer and CCI member from Dexter. "We've tried small tweaks to the Master Matrix, filing complaints about manure management plans, lobbying against tax exemptions, and the legislature is unwilling to act."
"As an independent family farmer, I pay my fair share of taxes. My corn and soybean farming operation adds revenue and value to Adair County. Our current tax policies allow factory farms to skirt their fair share of taxes. That forces everyone in the county to make up the difference." Added Kalbach.
Iowa CCI members have pointed out that factory farms are exempt from all kinds of taxes that independent family farmers aren't exempted from.  Factory farm buildings add no new tax revenues to county coffers.  Manure pits get a tax break under the Pollution Control Tax Exemption.  Wholesale rates on water and electricity are obtained, and factory farms don't pay sales tax on key inputs, like feed and energy.
The lack of county revenue from the factory farm industry has forced some counties to change their Local Option Sales Tax (LOST) formula – a local program to offset propoerty taxes.
"My roads are constantly being torn up by the dozens of daily semi-trucks driving past my house.  I'm afraid my daughters are going to get in an accident because of the status of the roads," said Nick Schutt, CCI member and resident of Hardin County.
"Now the Hardin County Supervisors want to change our LOST formula. If implemented, property owners property taxes will increase so the county can keep up with road maintenance,"  added Schutt.
The Hardin County Supervisors have proposed changes to the LOST formula.  Right now 80% of LOST revenue in Hardin County is going to offset property taxes.  The proposed formula would change that to 40% for offsetting property taxes and 40% for maintenance, improvement, and construction of roads and bridges.
The Hardin County LOST formula change will be on the ballot in November.
Last year, CCI members gathered input from Iowans affected by factory farms across the state and filed rulemaking to strengthen the Master Matrix with the Iowa Department of Natural Resources (DNR).  The DNR dismissed the entire rulemaking petition without considering changes to protect our air, water, land, and communities.
"We have already submitted our recommended Master Matrix changes to the DNR and the legislature.  They refuse to act.  That's why we're calling for a moratorium on all new and expanding factory farms.  We can't wait for little tweaks anymore.  We need to stop the expansion now," said Emma Schmit, Iowa CCI member in Calhoun County.
As of today, CCI members and allies have successfully organized 23 counties to pass resolutions calling for a moratorium, local control, and/or stronger protections from the factory farm industry.
July 26, 2018
Statement from Campaign for Family Farms & the Environment (CFFE) on President Trump's 7.26.18 visit to Iowa
President Trump's bailout is a Band Aid for a farm economy that is hemorrhaging. We need to ask why U.S. farmers and rural communities are so vulnerable to tariffs from other countries. The answer is a broken farm policy, created by corporate agribusiness, that prioritizes overproduction over everything else — including our farmers, our communities and our environment.
Here in Iowa, we see the results of this Farm Bill in the wave of new and expanding factory farms producing pork for export markets. Iowa communities are already dealing with 750 impaired waterways; the loss of independent family farm livestock producers, and the decline of our rural communities, all caused by over 10,000 factory farms in this state. Nearly all the benefits are extracted to the corporations who do the exporting.
The expansion of new factory farms is fueled with government-backed loans to build new factory farms, economic development funding to help locate new slaughterhouses, and government subsidies for factory farms to handle the massive amounts of manure they create.
Decades of corporate-controlled markets and farm policy that incentivize overproduction have put farmers in this vulnerable position — dependent on fickle export markets, that can vanish overnight. We need a functional marketplace where farmers are paid fairly, our rural communities supported and our environment protected.  
Congress is working on the Farm Bill right now. Instead of pointing fingers about the right short-term measure to help farmers survive Trump's trade war, let's fix our broken farm policy. A good first step would be to stop corporate factory farms from exploiting taxpayer-funded conservation programs, such as the Environmental Quality Incentives Program, and the taxpayer-funded guaranteed loan program to build even more factory farms.
CFFE consists of Dakota Rural Action (SD), Food & Water Watch, Institute for Ag & Trade Policy, Iowa Citizens for Community Improvement (IA), Land Stewardship Project (MN) & Missouri Rural Crisis Center (MO).
Yesterday, CCI member Emma Schmit drove two hours — each direction — to give two minutes of testimony at the Statehouse.
Why? Because she is surrounded by factory farms which is causing her hometown, Rockwell City, to wither on the vine.
Emma was one of over 50 CCI members — representing 22 counties — who testified at Tuesday's Environmental Protection Commission (EPC) meeting. We were there to sound the alarm that Iowa Department of Natural Resources (DNR) is still not in compliance with the federal Clean Water Act. 
If you believe, like Emma does, that we deserve to have the Clean Water Act fully implemented for existing factory farms in Iowa — I'm asking you to chip in $20, $25 or more if possible today to ramp up the public pressure.
Five years ago, thanks to your relentless pressure, the U.S. Environmental Protection Agency (EPA) forced the Iowa DNR to sign a 5-year Work Plan to bring Iowa into compliance with the Clean Water Act for factory farms.  As a key deadline approaches this August, DNR will be submitting their progress report.
On paper, the DNR hopes to show they've checked all the boxes. But with a record number of impaired waterbodies and beach advisories, Iowans know that's not the case.
In a letter we submitted to the EPA on Tuesday, we laid out the case for why we the DNR is still not in compliance with the Clean Water Act.  The DNR:
has not assessed and inspected all 5,000 "unknown" facilities that flew in under the radar.
does not have enough resources or inspectors to oversee this industry
has failed to issue a single Clean Water Act permit to a polluting hog factory farm.
does not have consistency and compliance with inspections and record keeping.
A total of 15 organization signed on in support of our letter.  You can watch our press conference here.
Our eyes are on the August Work Plan deadline and a clean water Iowa. We can't let DNR off the hook — and we need to make sure EPA doesn't, either.  Our water is too important.
Luckily, organized action is what CCI members do best.
In the next few months, we're:
ramping up pressure on DNR in person and in the media to continue to sway public opinion towards a moratorium;
moblizing and engaging thousands of Iowans who care about our air and water to help us build the public record that DNR is still not in compliance with the Clean Water Act; and
building our legal case with our allies at Food and Water Watch, to make sure existing factory farms in Iowa are held to higher standards under the Clean Water Act.
Now is not a time to back down. More and more Iowans are fed up. One if five Iowa counties are calling for action to stop factory farms.
Help us keep the fight to say NO MORE factory farms and YES to clean water hot through the summer and into the election.
Can you chip in $20, $25, $50 or more to make sure we can deliver our clean water message to more Iowans than ever before?
We deserve to have the Clean Water Act fully implemented for existing factory farms in Iowa. And, we can't just continue adding factory farms to our landscape — we need a moratorium.
THEY dump it. YOU drink it. WE won't stop 'til THEY clean it up!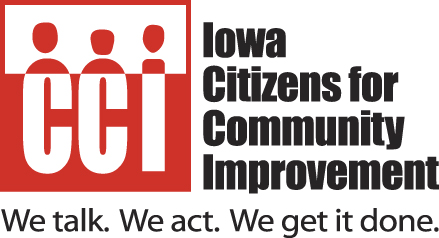 FOR IMMEDIATE RELEASE
Tuesday, May 15, 2018
CONTACT: Jess Mazour, 515-282-0484 or jess@iowacci.org
One Hundred People Gather at Iowa Select Headquarters to Demand an End to Jeff Hansen's Factory Farm Expansion
Factory farm fighters from across the state stand together calling for a moratorium
Iowa Falls, IA – This afternoon, nearly one hundred people gathered at Iowa Select's office in Iowa Falls to demand CEO Jeff Hansen withdraw all pending factory farm applications and immediately stop building factory farms. With over 500 factory farms, Iowa Select is the largest pork producer in the state and has been expanding aggressively in the past year, despite mounting public calls for clean water and a moratorium.
"Iowa Select is expanding rapidly all across Iowa with no concern for our rural communities, our health, our water, or our air," said Julie Duhn, a CCI member from Eldora. "As you can see from all the people here, this is a statewide fightback, and our only hope of stopping this out-of-control industry is if we fight back together. We can't back down now, or big money corporations like Iowa Select will just continue exploiting us."
"Factory farms dump pollution on our beautiful state and the industry doesn't even pretend to care. Our legislators apparently don't care, either. Since our politicians appear to be bought and sold by the industry, our communities have been stripped of local control with virtually no protections from factory farm pollution," said Nick Schutt, a CCI member from Alden. "We're left with no other choice than to take our message directly to Jeff Hansen and demand he stop this out-of-control expansion."
In 2017, the Hansen family donated $275,000 to the gubernatorial campaign for Governor Kim Reynolds.
Community members delivered a letter to Hansen.
"Building factory farms is not Iowa nice. Polluting our precious water with millions of gallons of untreated manure is not Iowa nice. Sickening our communities with hazardous air emissions is not Iowa nice," the letter read.
Iowa Select has been the subject of widespread scrutiny because of its massive factory farm expansion over the past year. Iowa CCI identified at least 27 factory farm applications associated with Iowa Select in the past six months, adding to more than 137,000 hogs. Iowa State University's swine manure calculator estimates that this many finishing hogs would produce 57.5 million gallons of manure per year. These figures may be low, however, because Iowa Select uses various LLCs on their applications, making it difficult to identify all of their factory farms.
In an interview with Successful Farming last year, Hansen acknowledged that the new slaughterhouses coming online – including the Prestage slaughterhouse south of Eagle Grove – are driving his expansion.
The company also regularly builds factory farms just under the threshold that would trigger more state and local oversight. For instance, confinements with 2,500 head of hogs require the Master Matrix – but Iowa Select often avoids it by applying for confinements with 2,490 head of hogs.
"Iowa Select's huge expansion is just one more sign that we need a factory farm moratorium now," said Dave Haynes, a CCI member from Duncombe. "We're at a tipping point. Enough is enough!"
"Iowa Select does not represent our vision for Iowa. We want more family farms, not fewer. We want clean water, not dirty water. We want thriving communities, not corporate-controlled communities," said Emma Schmit, a CCI member from Rockwell City. "For that to happen, it takes all of us coming together in this battle of David vs. Goliath."
Iowa Citizens for Community Improvement is a statewide, grassroots people's action group that uses community organizing to win public policy that puts communities before corporations and people before profits, politics and polluters. CCI has been fighting to put people first for over 40 years. Follow us on Twitter at @iowacci.
###
Bruce Rastetter has applied to build a 4,999 head factory farm about 2 miles North of Williams.  This factory farm alone will add 1,642,172 gallons of manure into our watershed.
Hamilton County already has 212 medium or large factory farms.
Enough is enough. 
Agribusiness corporations like Summit Farms get the profits—we get the pollution.
Factory farms lower our property values, kick independent family farmers out of business, pollute our water and air, and tear our communities apart.
Our air, water, and communities are more important than Bruce Rastetter's profits.
Take Action Now!!!!
Send an email to the Hamilton County Supervisors asking them to take points off the Master Matrix.
Join us on Tuesday, March 6 @ 6:00 pm at the Williams Fire Station on Locust Street for a community planning meeting.
When we stand together, organize, and fight back against greedy proposal like these, we win.
Click the link below to read CCI's full objections to the Rastetter – Williams 15 factory farm application.
Rastetter Objection+cover letter+enclosures